We offer fun and captivating
designs on high-quality, stylish shirts
BEHIND WHY WE DO WHAT WE DO

Craig and Jim in a business partnership may seem an unlikely pairing. Although they are almost exactly the same age, they have wildly disparate backgrounds and temperaments. Both were born in the same Huron, SD hospital many years ago, about five months apart.And then things got weird.
Jim moved away to Kansas City at an early age and grew up there in a large family. After a rebellious youth, he got himself involved in the non-profit world and never looked back. That training took him all over the world, living in South Africa and Southeast Asia for many years, until returning to the U.S. just a few years ago.
Craig spent most of his life in South Dakota, always working for Minnesota-based companies, including Dayton-Hudson Department Store Co., Minnesota Public Radio and finally Best Buy, who moved him to the West Coast for 17 years. After leaving Best Buy in 2013, Craig and Becky met Jim and June at a sales rally for a multi-level marketing company one evening in Portland, Oregon.
They quickly discovered that they lived a mile apart in Vancouver, WA, just across the Columbia River from Portland. Craig called Jim for a coffee meeting the next day and a deep friendship quickly sprang up. After Craig moved back to South Dakota to watch his granddaughter grow up, he found himself in need of a graphic designer for his new tee-shirt company. Recalling that Jim had spent many years working in graphic design, Craig reached out to get some help from Jim on a couple projects. The rest, as they say, is history.
While Scratchpad's inventory is filled with the work of many graphic designers, the best sellers are mostly Jim's work, including CHISLIC, East is Us/West is Us, Hometown shirts for every state except South Dakota, LogRider, Diamonds are a Girl's Best Friend, and Cat Mom. And we think the best is yet to come!

Shirts you wanna wear by guys
you wanna know
We believe everyone deserves a shirt that fits your unique body, is the softest thing you'll ever wear, and
lets the world know where you're from and how you feel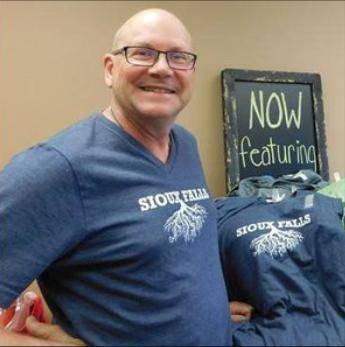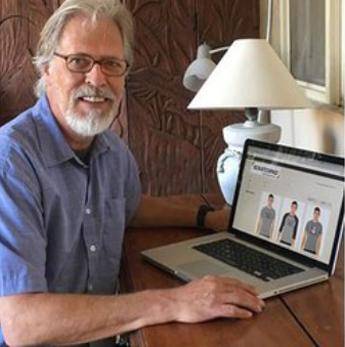 CRAIG BROWN
OWNER
Favorite pastimes:

Read
Hike with my dogs
Plot my next business venture (don't worry, Scratchpad isn't going anywhere!)
Meet and get to know new people

Favorite superhero: Batman
Wanted superpower: The power to lay healing hands on those afflicted with MS, dementia, or Alzheimer's disease and make them whole again.
Favorite Scratchpad Tee: Zip-Boom-Bah because of its pedigree. Based on a real-life event I wasn't able to personally witness and done by one of my favorite artists, Shaine Schroeder
JIM HEALEY
OWNER
Favorite pastimes: Designing t-shirts!
Favorite superhero: Superman
Wan
ted superpower: I would love to be able to fly.
What makes Scratchpad Tees unique? A great team that is dedicated to makingcomfortable, stylish, well-designed shirts "you wanna wear."